Star of internationally best-selling bellydance DVDs, protégée of the legendary Serena, and owner of LA's premiere bellydance studio, DanceGardenLA, Jenna shares the art of bellydance through her captivating performances and accessible teaching style in Southern California and around the world. Many recognize her from her appearance as a bellydance instructor on Sex and the City - but Jenna counts dancing live on stage with Gogol Bordello in NYC and LA among her favorite performances. She began her dance training at the age of four with ballet classes under Diana Hauser. In 1991, Jenna turned her attention to middle-eastern dance, and took her first lessons in a small restaurant in Berkeley, California. She continued her practice of this beautiful dance form through university, taking college courses in ballet & modern as well.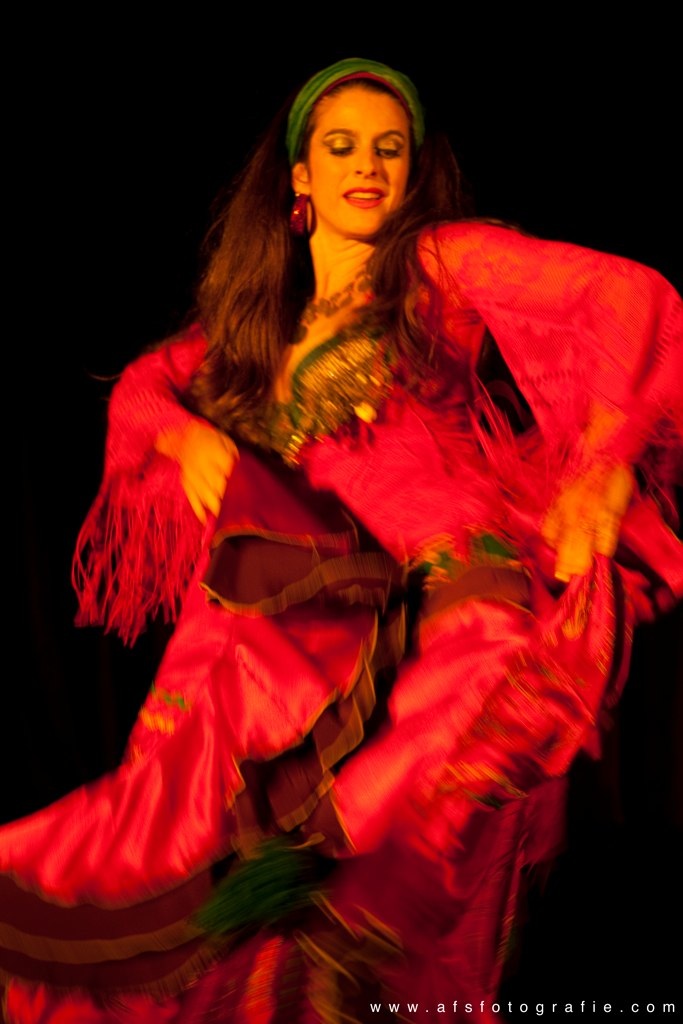 Once back east in New York City, Jenna intensified her study of belly dance at Anahid Sofian Studios with Andrea Anwar, and then further enhanced her training at Serena Studios (with Serena and Azza Amon) where she taught from 1998 through 2004. That year, Jenna was selected to form the trio Bellyqueen: Danse Orientale, with whom she created and performed original choreographies until 2002.
In the spring of 2000, Jenna made an appearance as the "Goddess Instructor" on an episode of HBO's Sex & the City. That same year she was awarded the role of "Yasmine" in NYPACO's production of "Banat Al Amir" or The Dancing Princesses, and was honored to work alongside Samara & Ghazal Rohani. She has also had the privilege of working with fusion singer and dancer, Jehan Kamal on "Ballet Exotiqa". In 2002, Jenna was asked by Serena to recreate a performance Serena herself was famous for, including her signature candle piece. Jenna was thrilled to perform this tribute as part of a retrospective of Serena's life in the dance. In Spring of 2004, Jenna toured local primary schools with NYPACO, performing "Caravan to Cairo", a middle eastern dance revue.
Jenna's professional, heartfelt performances have taken her to Beijing, Dallas, Miami, and Las Vegas. In Las Vegas, a 6-month contract had her bellydancing in the production show at Desert Passage on the strip where she performed daily, for all ages, with such esteemed musicians as Bachir Abdel-Al on nay, Amir Sofy on darbuka, and Fouad Jarcheh on violin.
Sharing her knowledge of belly dance is a joy for Jenna, so she dedicates herself to teaching private and group classes. Her successful students include the radiant Neon, producer of the "Instant Belly Dancer" and other dance DVDs; and Layla Isis, a popular NYC dancer & star of "The Temptation of Bellydance" DVD who was invited to join the "Bellydance Superstars" in Barcelona in the summer of 2004. For her teaching skills, Jenna has been invited to Japan in the summers of 2003 & 2004, and again in Spring 2007 to teach bellydance at Komatsu Studios in Tokyo and Yokohama. In 2007, she taught and performed in Singapore for the city's 3rd Annual bellydance festival.

Although much of Jenna's time is spent teaching and performing the art of belly dance (please see the Classes page for scheduling and other information), she believes in continuing to develop herself as well, learning at every opportunity by studying this dance in its many forms: Egyptian bellydance, Turkish gypsy style, North African and other regional folk dances among them. She is very interested in broadening her horizons beyond bellydance, having trained in the art of Flamenco in New York City and in Los Angeles, and later studying Samba (Brazilian street dance), Indian dance forms including Bollywood, and Congolese (a regional African dance). She speaks some Turkish and has dabbled in Arabic language study as well.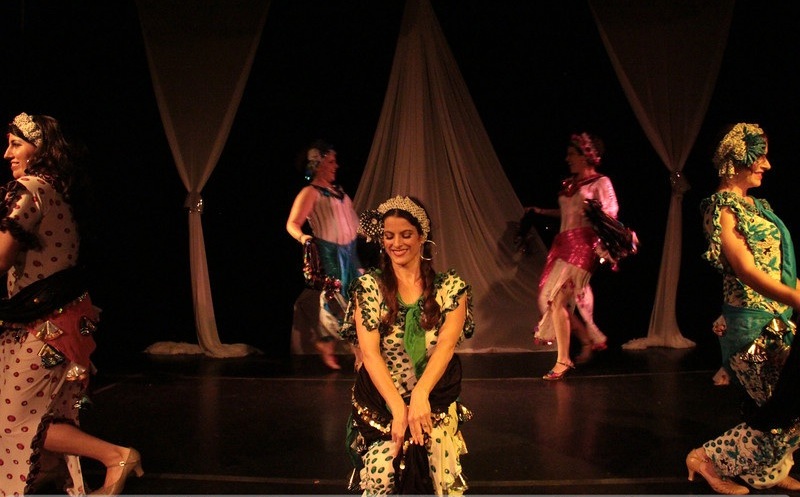 In 2005, Jenna brought her talent and dedication to Los Angeles, where she continues to perform and teach, now at her own belly-centric dance studio, DanceGardenLA . Opened with Zahra Zuhair in the Atwater Village neighborhood of L.A. in 2007, the studio boasts an incredible collection of the top belly dancing instructors in the state and even in the country. Shortly after her arrival in L.A., Jenna was invited to work with the troupes of 3 of the West Coast's finest dancers: Fahtiem and her Sultan's Delites, Zahra Zuhair's Eshta (now Ghazella), and as a guest soloist & instructor with Jillina's renowned Sahlala Dancers. She now directs and dances in her own professional dance company: BLOOM, founded in 2007, then reincarnated as Phoenyx:BellydanceRising in 2011. Phoenyx consists of unique and talented belly dance performers including Anahita and Lois Lotus, who showcase Jenna's original and dynamic choreographies. They have met with great success presenting new creative works like Jenna's innovative skirt dance to Percoloco and her clever take on Hakim's Telefon Zoghayar (Tameni Aleyk) at Kamala Almanzar's Choreographers' Collective shows in Alhambra. (Click links to watch!)


Jenna made a special appearance on the Tyra Banks Show to give a bellydance lesson on air, and played a bellydancer in a skit for MadTV. She shimmied on Food Network's Aarti Party and coached The Help's Jessica Chastain in bellydance for a special role. In addition to bellydance, Jenna began Tae Kwon Do training in the fall of 2005 at Jun Chong Tae Kwon Do, and has since earned her yellow, purple, orange, blue, green and red belts under Master Chong of Jun Chong Tae Kwon Do and Master J. Lee. After a break, Jenna began training at JW Lee's TKD in Pasadena in 2012.
Jenna stars in 4 internationally-released bellydance DVDs. In "The Golden Apple", Jenna performs 4 dances, showcasing her choreography & improvisational skills. Then, Jenna & percussionist Raquy Danziger team up to explain & demonstrate several Arabic & Turkish rhythms and how to dance to them in the instructional DVD "Heartbeat of Bellydance". A second instructional DVD, "Basics & Beyond" was released in 2006, in which Jenna breaks down a complete basic vocabulary of bellydance movements. A 3rd instructional bellydance DVD, called "Belly Dance: The Next Level" for intermediate & advanced dancers was released in 2008.
In addition to her busy teaching and performance schedule, as well as the production of taXim, a live music bellydance showcase in Eagle Rock she co-hosts with Zahra Zuhair, Jenna has studied the riq, or Arabic tambourine with Souhail Kaspar. She has also volunteered regularly, teaching bellydance to rescued child prostitutes at Children of the Night in Van Nuys, or performing at charity events and fundraisers.
Jenna's true joy is helping people celebrate their life milestones, such as weddings, birthdays & baby showers with beautiful bellydancing that raises the spirit of family & friends gathered together, as well as the image of our treasured art and cultural connection! Visit our Booking page for more information, or simply Contact Jenna to arrange a performance at your special event.
Jenna in Print
See some samples of Jenna's media attention in magazines & newspapers here!