Jenna has performed bellydance professionally since 1997, delighting audiences of all ages & ethnicities. Please see her resume for more details.
Jenna is available for theater performances/concerts, quinceaneras, grand openings, corporate events, weddings, anniversary and birthday celebrations, children's events, baby & bridal showers, sweet sixteens, red tent parties, bar/bat mitzvahs and club & restaurant performances.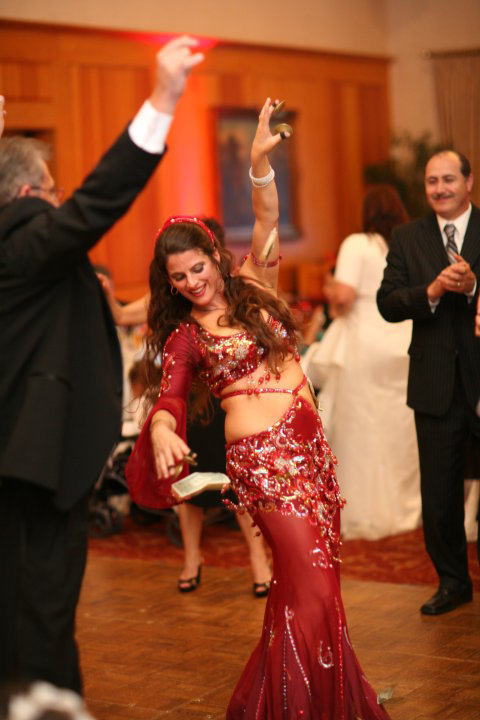 To book Jenna for your event, send an email to
jenna@beyondbellydance.com
or call 323.960.4430
with the date, time, location & type of event, and you will receive a quote for the performance.
For that extra-special event, you can hire PHOENYX::BellydanceRising, Jenna's troupe of professional bellydancers for an exciting, dynamic show that will lift your guests' spirits and bring your party to life! Would you like an authentic live band or an international DJ? We are happy to arrange any number of dancers and live musicians for your event.
A very effective solo show length is approximately 20-25 minutes, and is suitable for all ages. The performance may include the dynamic rhythms of the finger cymbals, beautiful flowing veils or wings, mystifying balancing skills, an exciting drum solo, and optional audience participation. Any special requests (such as multiple shows in an evening, special music or prop preferences etc.) will be honored as best as possible. Please let us know what you have in mind!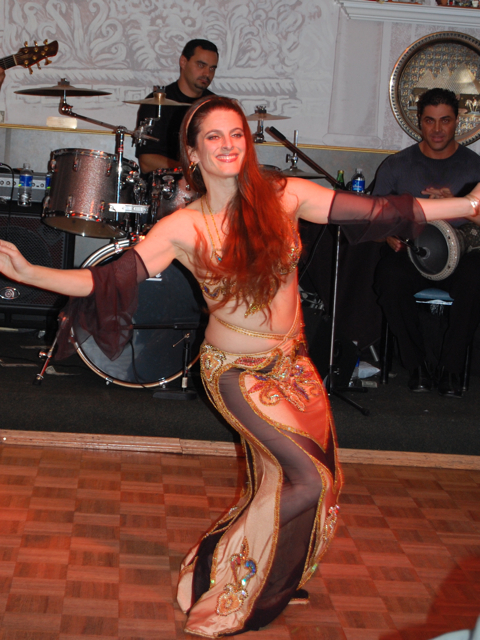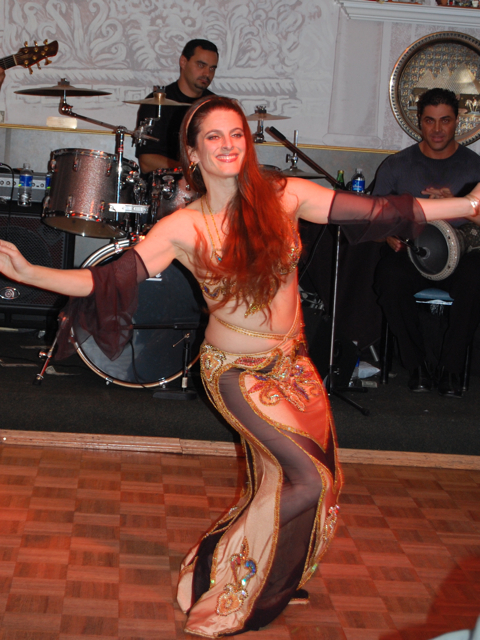 For recorded music, the client must provide the sound system, with either CD or cassette. Live musicians are also available for an additional cost.
No Bachelor Parties please.
A Tip on Tipping: An appropriate, authentic & fun way to show your appreciation is to shower the dancer with single bills.
Jenna and Phoenyx:BellydanceRising is available for performances in Los Angeles, the San Fernando Valley, Glendale, Burbank, Orange County, the Inland Empire, San Diego & other Southern California locations; and also travels worldwide to perform & teach.

Jenna has been invited to perform at special events in Las Vegas, Dallas, Jackson Hole, & the Hamptons to name a few. She is happy to bring her beautiful bellydance to your special event anywhere in the world!
Testimonials:

Thank you so much for providing such wonderful entertainment on the day of our wedding! Your dancing was absolutely beautiful and you looked stunning! You are the reason the party got started! :)

- J.Attar, Pasadena, Spring 2010
Thank you for such great Entertainment!!!! You were absolutely wonderful and my family loved you and even better so did [my husband's Lebanese] family who have seen many belly dancers in the past! You were so skilled, so great and also I really appreciate your flexibility with dancing with guests!!!! When we were leaving the hotel, our bell hop said he heard we had a great wedding and many of the guests were saying the best part was the belly dancer!

- JM, Redondo Beach 2008
I truly have to tell you how grateful I am for you. You were absolutely amazing! My parents had such a good time and could not stop talking about you. Not only that, but they said you were the best bellydancer they had seen; so authentic, tasteful, and talented. My neices were talking about you all night!

- A.S., 2007
THANK YOU, you were awesome and everyone kept raving about your performance. They said you were a classy act!

- MD, Sylmar, CA 2007
You were truly spectacular. Your beauty and skills were the perfect complement to the evening!

- MG, Los Angeles 2007
Hi Jenna,
I just wanted to thank you one last time for the wonderful performance ...! It was awesome! I loved how you interacted with the audience but mostly how you danced with my brother "the birthday boy". Just seeing the permanent smile on his face the complete time you were there was priceless! You were the talk of the party after you left! Thank you so much for helping make this special occasion a wonderful and memorable evening!

- A. Salacup, California, 2007
I want to thank you for being there and being a HUGE part of the party!!! You were a HIT!!!! EVERYONE loved you and thought you were awesome and beautiful!!!!!!

- Asma Yousef, 2006
Jenna, You were absolutely beautiful!!! Your dancing & performance was so amazing it was all everyone could talk about for days.... My mother especially loved it!! It was the best highlight of the wedding... I will definitely recommend you to anyone who asks... Thank you so much for everything!! It was the best!!! I will never forget it!!

- B. Dalgakiran
I would like to thank you for making our wedding a special one and I would recommend you to anyone who is looking for a bellydancer. You were fantastic, very beautiful and professional.

- Nicholas & Joann
We enjoyed your performance very much and received wonderful feedback. You were extremely popular and we hope that you will consider once again performing for Lower East Side BID.

- Melissa Lee, Lower East Side Business Improvement District